You are currently browsing the monthly archive for July 2015.
Barrack Obama returned to Kenya as President of America, and stood with Kenyan President Kenyatta today addressing the  future of this challenged east African nation. Much has changed and much remains muddled since we visited in 2004 and 2006, traveling the country extensively, from Nairobi to Lake Victoria and from Mount Kenya to Mount Kilimanjaro, meeting with ordinary Kenyans and leaders in business and conservation, and writing an impressionistic essay on the experience that I presented before the Chicago Literary Club in 2007. Climate change was melting the snows atop Mt. Kill then, as now. The vast migrating herds were threatened by poachers and the march of modernization. The ancient tribal culture was threatened by modern politics and terrorism, then as now. And corruption was endemic from top to bottom of the culture then, as it apparently still is , since the President of the U.S. felt it necessary to focus on it in his remarks to the press today. Kenya is a beautiful country with a unique heritage, confronting local rivalries as well as global change, and both engaged and threatened by modernization. Kenya is a wonderful place to visit, and can importantly broaden your world view. Vicki and I recommend you do visit and enjoy this gem of natural beauty, while respecting their land and peoples.
Last I heard, our military doesn't arm persons with mental health problems and criminal records. But the "Civilian Division" of the Military Industrial Complex certainly does allow arms into the hands of those who would be censored by our own military. By the "Civilian Division," I mean the gun industry that manufactures for the private U.S. market, and the lawmakers and law enforcement people who decide who can get guns and who can't. Soldiers have every reason to be armed, and receive the screening, qualification, training and leadership needed to do so safely and responsibility. And some soldiers have good reason to carry rapid fire and heavy gauge weapons. Civilians do not.
Thus, the "Civilian Division" of the Military Industrial Complex is falling down on the job, and letting America down, while tens of thousands are needlessly slaughtered by incompetent, irresponsible, and often over-armed people in schools, theaters, churches, homes, on city streets and other public places. The "Civilian Division" is letting qualified, responsible gun owners down, letting innocent children and adult victims of gun crimes down, letting America down. The gun industry should be the strongest supporters of safe and responsible gun ownership. Legislators, state and federal, should be champions of safe and responsible gun ownership. If we can't manage to effectively control safe and responsible civilian ownership of situationally appropriate guns, then we don't deserve to privately own guns at all.
Make a choice. Assert responsible gun ownership. Stop letting America down.
Donald Trump was in rare form when I attended as a Chicago delegate his general session keynote for the largest national annual meeting of PR people, the 2004 Public Relations Society of America conference, in NYC. He had been recruited for the talk by Howard Rubenstein, the dean of "connected" public relations gurus in the city. Trump was the after lunch speaker on Sunday, October 24th, and was described in the introduction as the "consumate newsmaker, taking transparency and visibility to new heights – a man of vision and imagination." He spoke without notes, and as if he were sitting around the bar telling stories with a couple of old male cronies, rather than to an sophisticated audience of a thousand in the New York Hilton's Grand Ballroom. By the way, in addition to the country's top PR professionals, the audience included hundreds of college student leaders majoring in public relations, mostly female.
While those who know me will attest I'm not easily offended, I was embarrassed for the women in the audience, young and old, as Trump made frequent sexist remarks about Vegas hookers and "chicks" and women sleeping around. His misogyny (hatred of women) seemed even bolder and yet reminiscent of Swedish playwright August Strindberg. He demonstrated he held the press in low esteem and considered them to be "dummies to be manipulated," as I recall. Following are some "highlights" of his typically rambling stream of consciousness diatribe, as reported by one of the top PR trade magazine editors of the time, Jack O'Dwyer.
November 3, 2004
A LESSON FROM TRUMP
By Jack O'Dwyer
The speech by publicity kingpin Donald Trump to the PRSA conference Oct. 24 was remarkable in many ways but particularly for its candor.
Trump used a lot of salty language which offended some in the audience.
We didn't like it either but we prefer it to the ambiguous business doubletalk which is standard fare at national trade conferences and meetings.
Timothy Messer-Kruse
Trump speaks at the 2004 PRSA conference.
The Trump story we liked best concerned his chance meeting with a banker who was giving Trump a lot of grief.
Trump said that in the early 1990s he owed one bank $500 million+ and that there was a "nasty, mean vicious guy" at the bank who wanted to "take me down."
Trump had friends who had been driven into chapter 11 bankruptcy by the banker.
The press at that time had "screaming headlines" about Trump's troubles. "I was hammered," said Trump, adding the press was "so happy" he was in trouble. But Trump said, "I said to them, f— you," causing an outbreak of laughter and applause.
Met Banker at Dinner
One night Trump dragged himself to yet another black-tie dinner at the Waldorf-Astoria and by chance sat next to the "vicious" banker, whom he had never met.
The first ten minutes were "tough," he told the PRSA conference. But the two executives warmed to each other. "We just hit it off," said Trump.
On Monday, Trump went to the banker's office and cut a deal that practically saved his organization.
Trump told this story to show that "the harder you work, the luckier you get."
But we see a different meaning. Hostilities often melt at lengthy lunches, dinners, golf dates, nights-on-the-town or whatever provides a chance for two different sides to spend quality time with each other.
We'd like to see PR pros and reporters do more of this. It would do more to improve PR's understanding of the press than panels where editors sit apart and tell their deadlines and ways they want to get stories. PR firms need to loosen tight budgets.
Take Your Lumps in the Press
Trump, the most publicized figure in business, which has helped to build his fortune, showed a love/hate attitude towards the press.
"I think I get the worst press of any human being in the world," he said. He feels coverage of him in New York is particularly "terrible."
There's always some "shot" against him in every story such as "his hair looks like sh-t," he said.
"I take it very personally," said Trump. "I used to really go crazy…but everyone else thinks I get great press. Howard [Rubenstein] does."
Rubenstein, honorary conference chair, was sitting nearby. He had obtained Trump as a speaker when Trump said he probably would have been out golfing.
Trump said he gets so much good and bad press that it evens out.
He told of being very cooperative with media and rarely passing up a chance for publicity whether it be TV commercials for Pepsi and McDonald's or public service appearances.
For instance, he said "Entertainment Tonight" wanted to do a feature on him but he said he had no time. He agreed when the show said the taping could be done in his office. "I gave my four minutes," he said.
He made the same accommodation for "Access Hollywood." Entertainment Tonight even asked him "how brilliant" he was, he noted, explaining that if he ever said such a thing about himself in an ad he would be "laughed out of town."
Press 'Can Kill You'
He did a Super Bowl promotion reasoning that more would see it than a $2-$3 million Super Bowl ad.
"PR is much more important than advertising," he said to applause. "When I get the word out that a building of mine is hot," he said, "it's better than a full page ad" in a newspaper that few will read.
But he also warned that "The press can kill you … the press can just eat you alive." Especially vulnerable, he said, are those who avoid the press but get one "defining story" that may be bad.
He told of a friend whom the press made out to be "the meanest jerk and he is exactly the opposite. It was a defining story. He may never have another."
Advice we didn't like from Trump was, "If somebody goes after you, go after the SOB and get them … the next time they won't go after you so much."
He also advised not trusting anyone, including employees and even "the people sitting next to you right now … they'll take your job, they'll take your money … being a little paranoid is not so bad."
The appearance of Trump was brought about by the media-friendly Rubenstein firm. Conference co-chairs Kathy Lewton and Grace Leong are to be complimented for obtaining the help of Howard.
The odd thing is that the powerhouse, 170-member Rubenstein firm has only one PRSA member–Howard himself.
PRSA national and PRSA/New York should have been courting him for years. He knows so many people (3,000 attended his 50th anniversary celebration in PR) that he could easily put PRSA/New York back on the map again by supplying major speakers at chapter events, getting publicity, etc.
The Chinese Housing Bubble Could Burst
October 26, 2010 in China, housing bust | Tags: Beijing, China, housing bust, Milwaukee, purchasing power parity, Shanghai, Swiss franc | 1 comment (Edit)
Just back from 2 weeks in China, I came away with one overwhelming impression: China is temporarily hyping its economy building millions of urban residences that won't be filled, creating a housing bubble that will make the one in the U.S. pale into insignificance. This brand new city of high rises along the Yangtze River in central China, for example, is just 5 years old and has a population of 600,000, larger than Milwaukee. Everywhere we went, from Shanghai and Beijing to cities in the interior, construction cranes span the horizon and modern highrises crop up in clusters that could house another 20,000 here or 50,000 there. 80% of the Chinese are rural, and 15 million a year move into cities in search of jobs in new and growing industries. By 2004, China had 108 cities with populations over one million, and that will swell to 221 such cities by 2025, vs. 35 in all of Europe. My feeling is that jobs won't grow fast enough to keep up with the housing boom, and I understand from a recent article (http://www.zerohedge.com/article/next-chinas-property-bubble-step-function-explosion-vacant-inland-cities) that there are already 65 million vacant new urban homes in China. Building all these homes employs a lot of people, generates a lot of investment in construction and artificially makes the economy seem more active and prosperous than it is. But how long can China get away with a currency with buying power 40% below the dollar, and nearly 70% below the Swiss franc? As purchasing power tries to balance out, the demand for cheap Chinese goods may falter, industrial growth may slow, and China will have a housing bust to end all busts. Then what will the central planners do — manage another people's revolution? My sense is that China's growth is going too fast, and is being forced beyond what markets will absorb. China's urbanization is impressive, but in my book, excessive.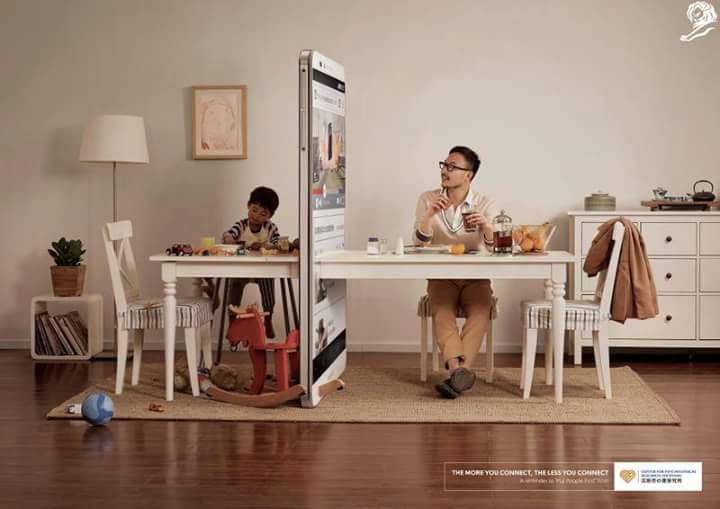 As illustrated so clearly here, we are living in a time of "mediated" existence. Most of us, much of the time, are connected to our friends, family and the external world through one form of media or another. I-phones, computers, TV, newspapers, movies…all both separate and connect us all. Good thing, or bad thing? Both, most certainly. We see people, ideas, events that we could not be present for personally, at a given time or place. But we remain separated from many of those same people, ideas and events by the very digital technology that connects us. Sometimes we can't tell the difference, and sometimes we can. Yet nothing can replace sitting across from one you love, holding hands, or touching your sweet cat, or gazing at the beauty of nature, with nothing but the short distance from that living being or object to your eye standing in the way. We innately know that the best "connection" is the live, interpersonal connection, unmediated by technology, yet technology enables us to leap beyond our physical boundaries, whether it's reaching out to family or friends, or reaching out and connecting with the world beyond our grasp. Yes, communications technology changes us, but it does not eliminate our personal responsibility to maintain the live, real  contact with the world that will always be important to our lives. We cannot live only "mediated" lives. But, while all of it is real, it is somehow vital that we recognize and value the meaning of our tactile connections to the world.