You are currently browsing the category archive for the 'News Media' category.
To all my friends on Facebook: I am tired of the political bickering here largely based upon divisive left vs right party issues. As of right know, if you post such, I will read less of it and respond even less, unless I think I must, which perhaps might be too often, until I get used to ignoring you.I am not blocking anyone now for these reasons because I believe in open communications, but at my age, I don't have to put up with any junk I don't like. But I am tired of this BS, and it is making me increasingly tired of Facebook. One thing I swear to do is look vastly less at supposed news posted, real or fake, on Facebook, and I will turn again to direct news sources, which is easy enough to do with a few spare seconds. Thanks for the sparring, but no more, please!
One nice thing about getting to be an older man is that one no longer needs to give a damn about taking a strong position, and after just watching Trump in what was billed as his first press conference as President-elect, I'd rate him a one on a scale of ten, as he might say in commenting on young actresses.
Nice try, Mr. Trump. No, he didn't even try.  In my 40 years of conducting scores of corporate news conferences and press briefings, I've never seen even the most calcitrant and abused CEO treat the press with as much open disdain as Trump did today. He courts the most intense scrutiny from the press any President has ever seen. I spent my career trying to build honest-broker relations with the press. In that respect, Trump is a total disaster, and if that is what his "base" wants to see, they are only confirming how "base" they are.
The loser in all this is not the press, it is you who are reading this, because of the questions not allowed to be asked and the questions remaining unanswered. You know, the French have had 13 governments since the original French revolution. That means they have peacefully thrown their entire government out 13 times. At this early stage of Trump's reign, I'm sad to say it seems we may be due.
Ran across the following item in an article titled, "25 Things You didn't Know About Le Cirque," in Jetset Magazine, March, 2013.
"#20. The Donald Loves… – Donald Trump has always been a regular at Le Cirque, and a good friend of Sirio. His favorite dish? The flipper."
It was the fall of 1999, and I was dining at Le Cirque, one of New York's legendary restaurants, celebrating my coming retirement with two associates from the Golden Arches, on the occasion of my last round of visits there with the news media on McDonald's behalf. We happened to be seated at a table next to Mr. Donald Trump and his two male guests that evening. As I recall we had a many laughs and a marvelous meal at that magical restaurant, in it's old Palace Hotel location.
During a stop in the men's room to powder my nose that night, I remember hearing Trump's two young guests, apparently financial types, standing together at the urinals, discovering that they each owned identical red Ferrari's. How Trumpish.
I also noted that it was in 1999 that Trump, then considered a possible Presidential candidate under a Reform Party banner, was widely quoted as saying things like: "I'm very pro-choice," and "I believe in universal health care." He also said: "Democrats are too far left. Republicans are too far right."
That leaves only one question about his preferences: what is the "flipper" dish he favored at LeCirque? Perhaps that is what defines him still, in 2016, as the newly presumptive Republican candidate for President of the United States.
"Earned Media" is one of the most-used expressions in the world of public relations. It refers to the media coverage given to an issue, person, product or brand that is covered as news because of its potential appeal to readers, viewers or listeners, and not because it was paid for by an advertiser. Earned Media is free media coverage as opposed to paid media coverage.
Back when I was doing public relations work for corporations and not-for-profits, we would take pride when the quality of our messages and messengers on behalf of these clients would be perceived by the news media or worthy of coverage as news for their audiences. Our PR agencies or departments would receive praise and great credit from management for "Earning" such free media coverage based upon the merits and creativity of the messages we crafted. Such "earned media" coverage was usually seen as more credible and thus more valuable than messages we purchased as advertising. Though we could precisely choose how to phrase and present our own messages in advertising, it was seen as much more valuable when such messages were communicated through credible news people, who supposedly selected what to cover as "news" based upon its editorial   worthiness and suitability to their target audiences.
But in today's news, when "infotainment" is the new norm in so-called news coverage, and entertainment value trumps (pardon the expression) real news content, it is increasingly embarrassing to professional communicators to see gratuitous coverage of political foolishness passed off as "earned media." The public relations profession either needs a new term for real news that  "earns" its place in news coverage versus advertising, or else infotainment that tries to pass for "earned Media" should perhaps just be called what it is — "Goofy Media!".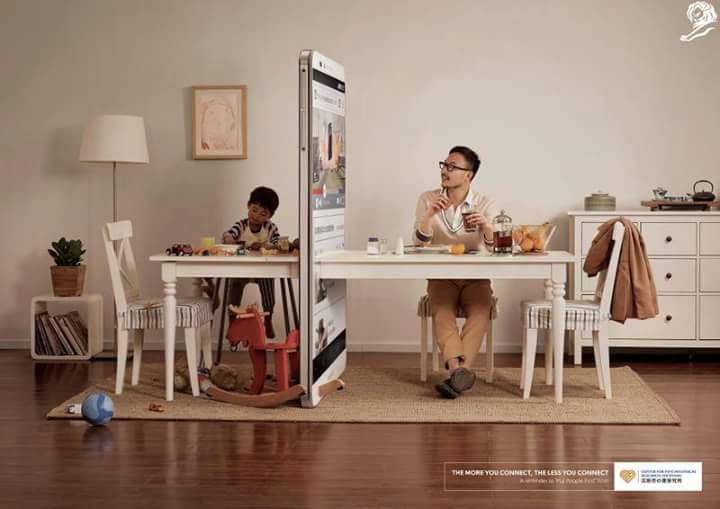 As illustrated so clearly here, we are living in a time of "mediated" existence. Most of us, much of the time, are connected to our friends, family and the external world through one form of media or another. I-phones, computers, TV, newspapers, movies…all both separate and connect us all. Good thing, or bad thing? Both, most certainly. We see people, ideas, events that we could not be present for personally, at a given time or place. But we remain separated from many of those same people, ideas and events by the very digital technology that connects us. Sometimes we can't tell the difference, and sometimes we can. Yet nothing can replace sitting across from one you love, holding hands, or touching your sweet cat, or gazing at the beauty of nature, with nothing but the short distance from that living being or object to your eye standing in the way. We innately know that the best "connection" is the live, interpersonal connection, unmediated by technology, yet technology enables us to leap beyond our physical boundaries, whether it's reaching out to family or friends, or reaching out and connecting with the world beyond our grasp. Yes, communications technology changes us, but it does not eliminate our personal responsibility to maintain the live, real  contact with the world that will always be important to our lives. We cannot live only "mediated" lives. But, while all of it is real, it is somehow vital that we recognize and value the meaning of our tactile connections to the world.
From today's Milwaukee Business Journal:
Fans of the Milwaukee Journal Sentinel's print edition can take heart: The CEO of the newspaper's owner predicts continued publication of a hard copy "for a long, long time."
Milwaukee is the media market where Journal Media Group (NYSE: JMG) has the greatest daily newspaper penetration with consumers, so the print edition will remain safe for the foreseeable future, said the company's CEO Tim Stautberg.
"I suspect in a market like Milwaukee, it's a long, long time (for continued printing)," Stautberg said at a joint luncheon Tuesday of the Milwaukee Press Club and the Rotary Club of Milwaukee at the Milwaukee County War Memorial.
Stautberg has been CEO of the new publicly traded company since April 1 after the closing of a transaction involving Milwaukee-based Journal Communications Inc. and Cincinnati-based E.W. Scripps Co. Prior to taking the helm at Journal Media Group, Stautberg was the top newspaper executive at Scripps.
Journal Media Group consists of the Journal Sentinel, 13 former Scripps daily newspapers and a number of community newspapers.
The print edition of daily newspapers remains the preferred way of attaining news for many consumers, Stautberg said. He said 45 percent to 50 percent of adults still read newspapers.
"To me there is still a habit that is very important to a lot of folks in the communities where we operate off reading a physical product," he said. "I like to remind folks that a newspaper is actually the first mobile app."
Williams is an excellent and committed journalist, who is also clever enough to see the irony (read: comedy) in life. What he did was nothing of significance, and those who want to make this a rorshack (sp?) test on television journalists know where they can put it. Williams is much more of a journalist than some of the ciphers on CNN and FOX and elsewhere, who barely qualify as "news readers."
Let's get over this, NBC, and move on.
The current conflict between Palestine and Israel has led to substantially unprecedented video news coverage, because of the massive presence of news media on BOTH sides of the conflict.
During Vietnam, and even Iraq and Afghanistan, we didn't have as extensive and close-up video coverage of civilian impact of the carnage. When our drones hit a target, we get some, but little video of the actual human consequences.
Back in Vietnam, the Vietnamese lost close to 2 million people, and we saw just a little of that magnitude. Regardless of the pros and cons, politically, or the Israel/Palestine issue, viewers around the world are aghast at the carnage they see. Will this have any effect upon the outcome? Only time will tell, but the world can less than ever before escape the real time impact of the hell that is war.
Bob Sanders, a Chicago upbeat talk radio legend, of the Bob And Betty Sanders Show, passed away today. He will be greatly missed by his old fans and friends, and our condolences to his wife and radio partner Betty. I've been privileged to be part of a regular discussion group at Lake Geneva aptly called The Sanders Session, which was created by Betty for Bob as his health declined. Bob hasn't been able to attend for some time, but the spirit of lively conversation that he and Betty made famous on daily Chicago radio from 1968 to 1983, lives on.
See More
Change of Subject: Bob and Betty — an update
blogs.chicagotribune.com
Bob of the legendary Chicago radio team of Bob and Betty Sanders team checked in via e-mail the other day. The husband and wife team were a midday fixture on WBBM-AM 780 from 1968 to 1983.
The latest furor over the Boston bomber is his picture on the cover of Rolling Stone Magazine, or rather the reaction of some retail businesses, refusing to sell this issue. It is a classical, visceral response triggered by the association of the alternative media reputation of the magazine with the attractive picture of the young man, as if it were some kind of endorsement of his deeply anti-social act.
Of course, it is and it isn't. The cover copy describes him as a "monster." And the same photo has appeared elsewhere, including in the New York Times. But, the combination of the appealing photo on the cover of this infamous alternative media publication seems to imply to some that he is being treated as some sort of rock star.
I have my own reasons for disliking the style of Rolling Stone, having once been personally attacked in its pages, and quite inappropriately so. But I suppose Bill McCrystal thinks the same thing about himself.
Anyway, that some companies like Walgreen drug stores refuse to sell this issue of the magazine is their own business, in my view. After all, companies are made up of people, just like magazines, and they have a right to their own views. The bomber is repugnant, and on this most agree. How we choose to treat him in the court of public opinion is up to each of us, and the private sector organizations to which we give our fealty. But what the courts do is a matter of law, not just of taste. And the taste we have in our mouths is a pretty awful one.
I