You are currently browsing the tag archive for the 'computers' tag.
Back in 2004 or so, I had an HP computer I was about to throw out the window or shoot with my self defense weapon, so in a last gasp of frustration, I wrote an email to Carly Fiorina, and indeed things happened. I described the incident to a friend, who was also having some problems with HP hardware,  in the following message a few years later: : I have a recent and relaible HP 7180 All-In-One, have had no problems to date, but will keep this strategy in mind, as it could do double duty one day, in relieving the sort of stress and exasperation we've all known, while creating a much needed excuse for some target practice with our heavier-duty house protection equipment. A few years ago, when I was having trouble getting satisfaction regarding an HP computer crash, I contacted Carly Fiorena, then CEO, and indicated I had been media relations officer for McDonald's, perhaps an HP client of some standing, and I was soon contacted by the hardware person in Europe that headed that particular field of technology for HP. On reflection, clout is perhaps more salient than weaponry.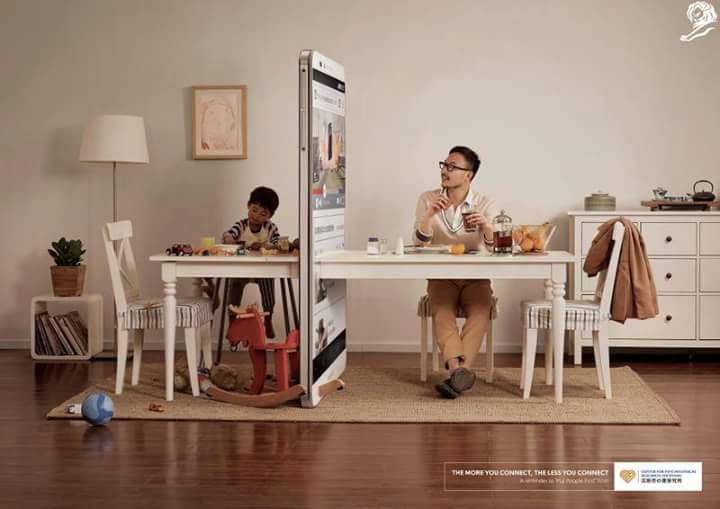 As illustrated so clearly here, we are living in a time of "mediated" existence. Most of us, much of the time, are connected to our friends, family and the external world through one form of media or another. I-phones, computers, TV, newspapers, movies…all both separate and connect us all. Good thing, or bad thing? Both, most certainly. We see people, ideas, events that we could not be present for personally, at a given time or place. But we remain separated from many of those same people, ideas and events by the very digital technology that connects us. Sometimes we can't tell the difference, and sometimes we can. Yet nothing can replace sitting across from one you love, holding hands, or touching your sweet cat, or gazing at the beauty of nature, with nothing but the short distance from that living being or object to your eye standing in the way. We innately know that the best "connection" is the live, interpersonal connection, unmediated by technology, yet technology enables us to leap beyond our physical boundaries, whether it's reaching out to family or friends, or reaching out and connecting with the world beyond our grasp. Yes, communications technology changes us, but it does not eliminate our personal responsibility to maintain the live, real  contact with the world that will always be important to our lives. We cannot live only "mediated" lives. But, while all of it is real, it is somehow vital that we recognize and value the meaning of our tactile connections to the world.
Looking forward 20 years or less, from 1995, Bill Gates of Microsoft foresaw the computer as the ubiquitous communication device it is today. From his address to the Economic Club of Chicago, April, 1995, at the dawn of the internet age:
"Certainly within the next 20 years the impact here in the United States will be very, very dramatic…
"The first 20 years were really about creating a tool that would allow us to build documents, and it was a tool of the individual. That's very different than the computer that came before, which was a tool of organizations. But the primary way that you got a benefit out of the tool was that you would type in your word-processing document or your spread- sheet or your database and you'd print something out; take it to a meeting. And so it was only you, working alone, that was sitting at that device.
"What I'll talk about that comes in the next 20 years is that, rather than being a device for an individual, or even a computation device, these will turn into communication devices. And devices that are so far beyond, in terms of their presentation capability and their location capability, something like the phone is, to redefine how we reach out into the world at large…"